Duncan Ricketts Riley Specials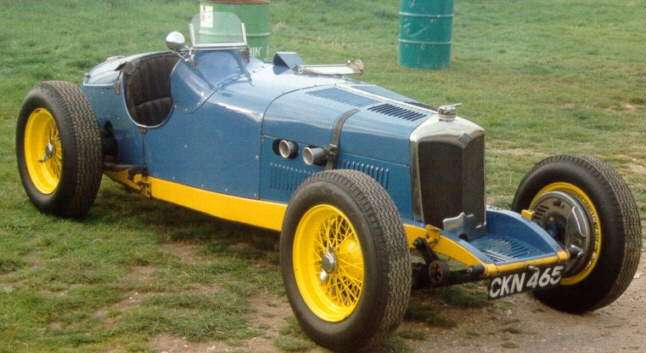 The car above is the first special that Duncan built, based on a
Riley 12/4 Falcon
and it sported Prince Bira's colours, as did at least one ERA.
BBJ318 was a later car built by Duncan, and it started life as a Riley Kestrel saloon. Duncan Ricketts acquired the car in the 1980s. In a very poor condition, and so he decided to create another special, loosely based on the car that he used to race at VSCC meetings before progressing to ERAs. BBJ 318's body is dressed in Oxbridge colours and is in a milder state of tune than Duncan's first car.
Clive Temple purchased the car in the mid 1990s. Since then Colin and Clive Temple have refined the car into a fast sports/racing car, primarily for road use but with competition in mind. The car is rarely circuit raced (finished 2nd at Croix), however, BBJ 318 is used for hill climbs and sprints, winning the 750 MC sprint at Brooklands one November. It later had another engine rebuilt, which saw more power available for the hills and sprints.
It is usually driven to meetings where it competes and regularly makes the trip to the Le Mans 24 hrs in June. Despite being a narrow two seater there is plenty of stowage space.