Riley 'Six'.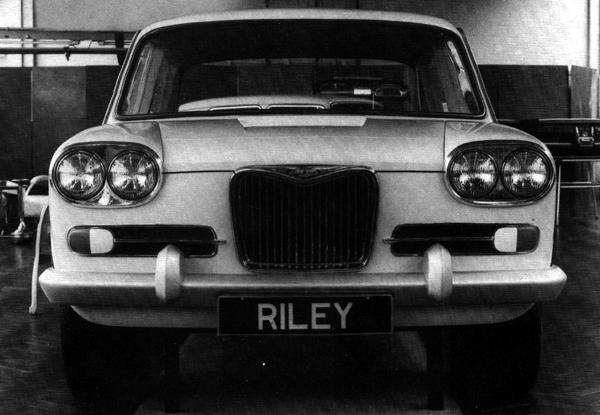 The BMC 'Landcrab' range was launched in 1964, using the 1798cc version of the B series engine. Designated as the '1800', it was initially only sold as a Austin or Morris. However, greater things were planned for this model and in 1972 the Wolesley Six Cylinder model was launched, soon to be followed by Austin / Morris '2200' Sixes as well. However, the original plan had also seen VDP and Riley versions of the six cylinder model, with styling mock ups of each produced.
Indeed, the mock up as seen above was apparently created right back in 1962, perhaps suggesting that a four cylinder model would have arrived first, although the quad headlights suggest a more up-market position than the 1798cc B series would have offered.
However, the model was shelved, the six cylinder models weren't launched until after Riley had been killed off, and what might have been the marques saviour sank without trace.
The reasons for not progressing seem to be that the body design and mechanicals could not, in the early 60s, be tuned to suit a Riley market, there was never any suggestion of producing an MG version for instance. By the time that the E6 engine was being developed for the range, the Riley marque was already being run down, with new owners BL seeing it as competing too closely with their own Rover and Triumph brands.
ENGINE

2227cc 6 cyl OHC
Bore 76.2mm Stroke 81.3mm
bhp at rpm
Compression Ratio
Carburation SU

TRANSMISSION

Overall gear ratios.
1st
2nd
3rd
4th
Reverse

SUSPENSION

Independent Hydrolastic all round

BRAKES

PERFORMANCE

0-60mph 13.1secs
Standing ╝mile secs
Top Speed 105mph
Fuel Consumption mpg

DIMENSIONS

Wheelbase (aprx mm)
Track (aprx mm)
Length (aprx mm)
Width (aprx mm)
Tyres
Weight cwt
Fuel Tank galls

PRICE