Riley 9 Falcon. (1933)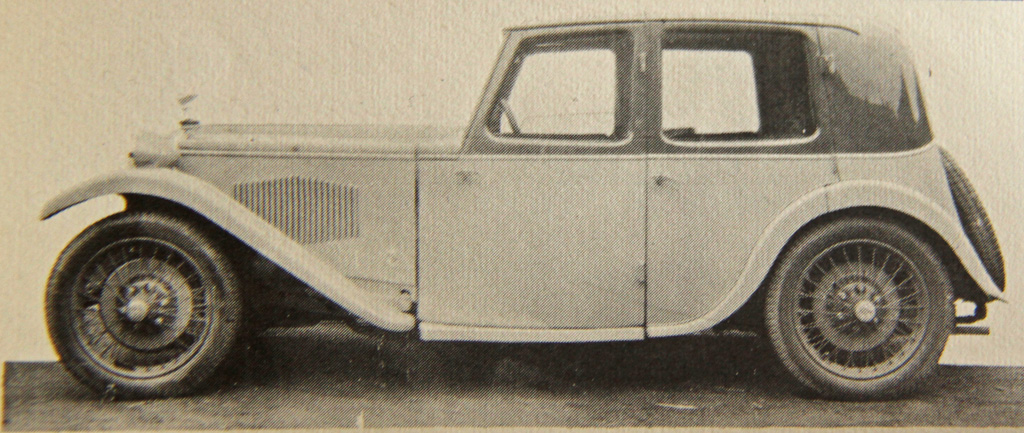 1933 Riley 9 Falcon Prototype
While the
Kestrel
body was the sporty model, and the
Monaco
was the cheaper model, the Falcon was aimed at the more traditional market. The body was more upright than that of the Kestrel, although much lower than many of its rivals. This was done by dropping the floorpan either side of the transmission tunnel.
In order to give reasonable access to the low seating position, 1933 models had special mechanisms which lifted part of the roof over the front doors to give better clearance, however this was dropped for 1934 as it became clear it was damaging the structural integrity of the body. The prototype also shows that the shrunken running boards and the leading edge of the rear wing were attached to the doors, however, the production model returns to the normal procedure where the running board and wing were separate, fixed panels.
Another curious feature of the prototype which did not make production was the shape of the front doors. In a manner similar to the original
Biarritz
in 1928, the front door met the bonnet side without a scuttle panel. In the Falcon this was acheived by a squared up projection beneath the windscreen, rather than the more stylish straight diagonal of the older model. The scuttle panel was reintroduced for production cars.
This innovative design seems to have perhaps been too much for the buying public, particularly on the small 9, and less than 100 were built during the 1933 model year, and indeed some of these may have been the revised
1934 model
.
ENGINE

TRANSMISSION

9hp 4 cyl ohv
Bore 60.3 stroke 95.2
compression 5.2:1
Capacity 1087 cc
42bhp at 3600rpm
Carburation Zenith
4-speed gearbox.
Top gear ratio 5.2:1

SUSPENSION

Semi-elliptic

STEERING

DIMENSIONS

Wheelbase 9' (aprx 2730mm)
Track 3'11" (aprx 1180mm)
Length / width: various bodies
Tyres 27x4.40
Weight 17cwt

BRAKES