Riley 16hp Kestrel. (1939-40)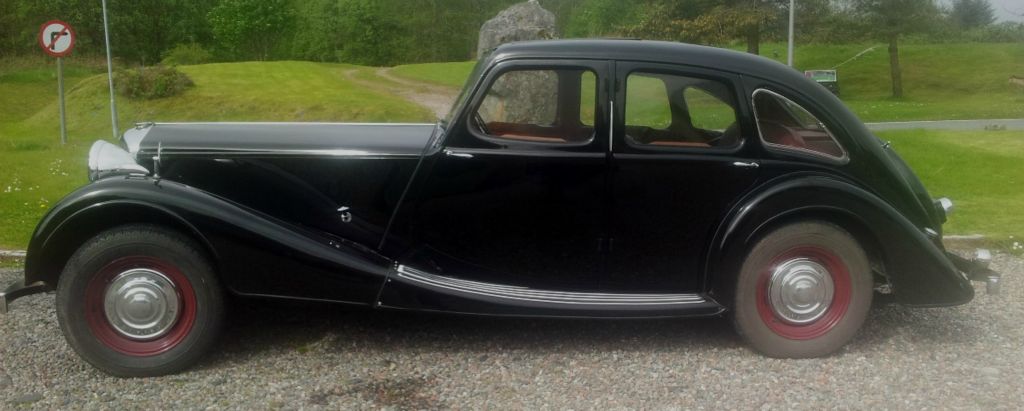 1941 Riley 16 Kestrel EVC880
After the Nuffield takeover, Riley models were reduced to the 12/4 and 16/4 enigines, with either 6-light 4-door saloon or 2-door drophead coupe bodys. The 16hp Kestrel was launched shortly after the saloon and drophead in July 1939 when public demand forced Nuffield to re-introduce the popular, and pretty, 6-light Kestrel design, which had been absent in earlier publicity and at the 1938 motor show.
However, with the outbreak of war in September 39 the new Kestrel was short lived - it is thought that less than 25 were built.
Differentiating features over the previous 16/4 Kestrel include plain bonnet sides, smaller headlamps and a revised radiator shell. Some of the cars also had steel bonnets and other detail changes, presumably as stockpiled parts were used up and new had to be fabricated or bought.
Chassis Type: 49K
ENGINE

4cyl ohv
RAC Rating 16.07hp
Bore 80.5 Stroke 120
Compression Ratio 6.1:1
Capacity 2443 cc
82bhp at 4300rpm
Carburation SU / Zenith

TRANSMISSION

4-speed synchromesh gearbox.
Overall Gear Ratios:
1st Gear 14.6:1
2nd Gear 8.6:1
3rd Gear 5.67:1
Top gear 4:1
Reverse 14.6:1

SUSPENSION

Semi-Elliptic

BRAKES

Girling Brakes with 16" diameter drums.

PERFORMANCE

0-50mph 14.9secs
Max speed 81mph
Fuel Consumption 25/34mpg

DIMENSIONS

Wheelbase 9'8" (aprx 2930mm)
Track 4'3" (aprx 1280mm)
Length 14'11" (aprx 4510mm)
Width 5'3" (aprx 1580mm)
Wheels Dunlop Pressed Steel bolt-on 4.5x16 Some wore 18" Magnas!
Tyres 6.25X16 or 5.5x18
Weight 29cwt
Fuel Tank 10galls.

PRICE

1939 £410 1940 £451