Riley RMG. (1953 Prototype)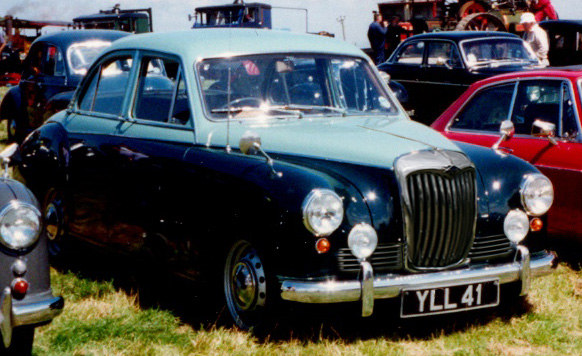 A Photoshopped suggestion of what an RMG may have looked like!
The RMG was planned to replace the RME and there are two theories as to what the new model would have been. With hindsight, the more plausible idea is that the RMG was due to be a Riley version of the Wolsley 4/44 and MG ZA Magnette, to be launched in 1953/4. The alternative idea is based on a tale that one of the 1Ż litre engines was inserted in a Pathfinder as a development vehicle, but that it proved woefully under powered and the plan was abandoned. The name 'Wayfinder' is known to have been reserved for the new model, so plans must have been reasonably well progressed.
Either way, the creation of BMC led to a substantial review of all models, and they axed the project. Instead, the RME was 'improved', by removing the running boards, adding some rear wheel spats, and a lot more chrome.
The RMG project could have provided Riley with a new small car, at a time when their fortunes were waning. However, with the Austin-Nuffield merger, which formed BMC, it was felt an unnecessary duplication of the model - ironic considering what BMC would do to badge engineering in the ensuing decade! In the end, the RME was left to soldier on to an ignominious death in 1955, selling ever fewer to a public who saw it as increasingly old fashioned. Did the BMC management ever come to regret their decision?
ENGINE

High camshafts and push-rod 90-deg ohv
1496cc 4cyl ohv
Compression ratio 6.8:1
Bore 69mm Stroke 100mm
54bhp at 4,500rpm
Carburration H2 SU

TRANSMISSION

Four-speed gearbox, Synchro on 2nd,3rd,4th.
Overall gear ratios:
1st 20.37:1 2nd 11.73:1
3rd 7.58:1 4th 5.12:1
Reverse 20.37:1.

SUSPENSION

Independent front suspension with twin wishbones, torsion bars and hydraulic telescopic dampers.
Semi Elliptic at rear

BRAKES

Girling Hydro-mechanical.
10inch dia drums.

PERFORMANCE

0-50mph 18.6sec
Standing ╝mile 24.3secs
Max Speed 74.7mph
Fuel Consumption 26mpg

DIMENSIONS

Wheelbase 9'4.5" (aprx 3850mm)
Track 4'4.5" (aprx 1320mm)
Length 14'10" (aprx 4510mm)
Width 5'2.5" (aprx 1560mm)
Height 4'9" (aprx 1420mm)
Turning Circle 30'
Tyres
Weight 24.5cwt
Fuel Tank