Riley MPH 14/6. (1933-34)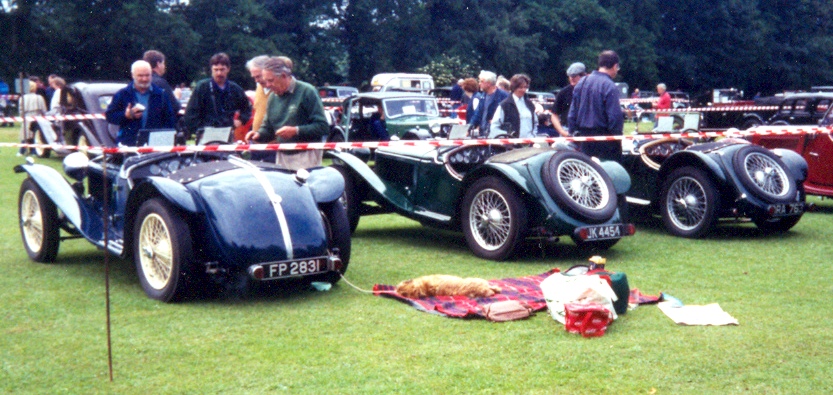 Riley 14/6 MPH (FP2831) Next to a pair of Imps


The MPH model was initially developed as a racing car for the road, and had a price to match. As such, few seem to have been built, with estimates ranging from a dozen up to perhaps as many as 30, although the vast number of replicas built has confused the matter somewhat. The car itself was a low slung two seater, developed from the 1933
TT 6 Racing cars
(the chassis from one of which was adapted for the prototype), and most noticeably different at the rear where the long tail was replaced with a much more rounded design, with the spare wheel(s) mounted on it.
The MPH was available with all 3 of the 6 cylinder engines, and one was also apparently built on the 12/4 chassis with the 4 cylinder engine. The works racing cars may also have featured the 2 litre 6 cylinder engine (engines were often swapped to suit the race), and other capacities may have been used by private entrants. As such, it is difficult to be precise on how many of each engined MPH were built, with some chassis perhaps having half a dozen different engines installed before 1939. However, of those identified more are regarded as 14s than 12s or 15s.
Despite scoring many successes in competitions, the high price limited sales, and so the MPH was redesigned to create the
Sprite 12/4
model, which sold somewhat better.
ENGINE

6cyl ohv
Bore 60.3 Stroke 95.2
Capacity 1633cc
Compression Ratio 7.1:1
Carburation 2SU

TRANSMISSION

Pre Selector 4-speed gearbox.
Top gear ratio 5.0:1
3rd 6.25:1
2nd 7.5:1
1st 13.35:1
Reverse 22.99:1

SUSPENSION

Semi-elliptic all round

BRAKES

Riley continuous cable with cam operated shoes.
15" Drums

PERFORMANCE

DIMENSIONS

Wheelbase 8'1.5" (aprx 2460mm)
Track 4' (aprx 1200mm)
Length 12' (aprx 4840mm)
Width 4'9.5" (aprx 1440mm)
Wheels 3.0x19 or 3.0x18
Tyres 5.0x19 or 4.75x18
Weight 18cwt
Fuel Tank 15galls

PRICE

£550