Riley 2½ Lynx. (1937-38)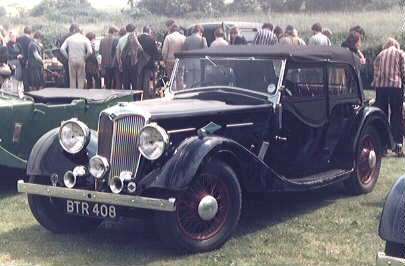 1938 Riley 16/4 Lynx
Although the Lynx was offerred for the whole period of Riley Big Four production, only one was ever produced, namely 38LX1181. This was sold to Hector Dobbs, a Riley Dealer, and survives to this day.
The body shares many similarities to that fitted to the 15/6 and 12/4 chassis in previous years, albeit with the new style Radiator Grille and Bonnet assembly. It is probable that these were bespoke hand made items to fit the different profile of the Lynx Body. The body also sat higher on the chassis than previously, partly due to the fashion for bluffer noses on cars at the end of the 30s. This made the car more of a Grand Tourer than the sporting inclinations of the earlier Lynx models, and indeed the car is referred to in some places as a Tourer, despite the body clearly being based on the Lynx, with the cut away front doors.
The car was built in January 1938 and was then offered for sale at Hector Dobbs' Riley showroom through February and March, before he registered it as his own car. It was finally sold in 1943, and enjoyed a number of owners before being rescued from near oblivion in the 1970s, and so this unique car now survives as a regular at Riley events.
Chassis Types 38LX
ENGINE

4cyl ohv
RAC rating 16.07hp
Bore 80.5 Stroke 120
Compression Ratio 6.1:1
Capacity 2443 cc
82bhp at 4300rpm
Carburation SU / Zenith

TRANSMISSION

3-speed dual overdrive gearbox.
3rd o/d Gear ratio 3.97:1
3rd g/r 5.5:1
2nd o/d g/r 6.15:1
2nd g/r 8.25:1
1st g/r 14.3:1
Reverse 17.87:1

SUSPENSION

Semi-Elliptic

BRAKES

Girling mechanical rod with wedge operated shoes
16" Drums.

PERFORMANCE

0-50mph 14.9secs
Max speed 87mph
Fuel Consumption 25/34mpg

DIMENSIONS

Wheelbase 9'8.5" (aprx 2930mm)
Track 4'3" (aprx 1290mm)
Length 14'11" (aprx 4510mm)
Width 5'3" (aprx 1580mm)
Fuel Tank 11½ galls
Wheels Magna wire 3.25x18"
Tyres 5.25x18
Weight 29cwt

PRICE

£405