Riley RMF. (1952-53)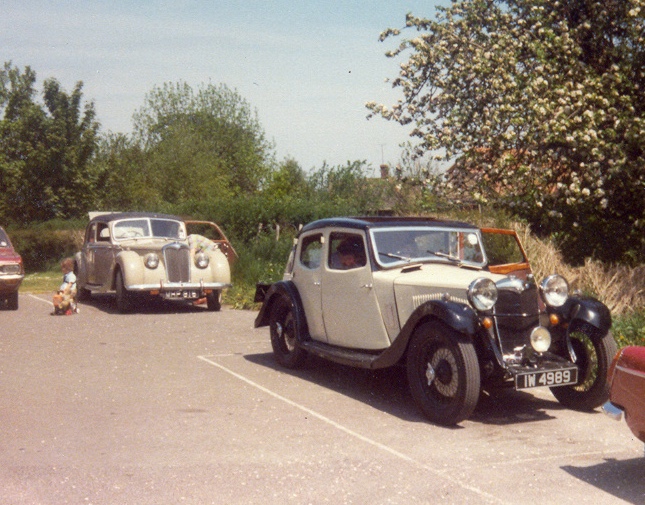 1952 Riley RMF (MHP816) behind 1933 Kestrel 12/6.




The RMF was the same to the
RME
as the
RMB
was to the
RMA
, in other words a longer chassis, bigger engine, and pale blue Riley badges! Finally launched early in 1952, the RMF is said to be the last real Riley to be launched, although the
Pathfinder
is essentially also pre-BMC.
Although the RMF was only built for about 20 months, it sold comparatively well (1050 were built), and is acclaimed as probably the best post-war Riley. It was replaced in 1953 by the Pathfinder (RMH).
ENGINE

High camshafts and push-rod 90-deg ohv
2443cc 16hp 4cyl
Bore 80.5mm Stroke 120mm
100bhp at 4,000rpm
Compression ratio 6.8:1
Carburation 2 H4 SU

TRANSMISSION

Four-speed gearbox, Synchro on 2nd,3rd,4th.
Overall gear ratios:
1st 15.0, 2nd 8.86,
3rd 5.83, 4th 4.11
Reverse 15.0

SUSPENSION

Independent front suspension with twin wishbones, torsion bars and hydraulic telescopic dampers. Semi Elliptic at rear

BRAKES

Girling Hydro-mechanical.
11in diameter brake drums.

PERFORMANCE

0-50mph 11.9sec
Standing ╝mile 21.1secs
Max Speed 91mph
Fuel Consumption 19.6mpg

DIMENSIONS

Wheelbase 9'11" (aprx 4010mm)
Track 4'4.5" (aprx 1320mm)
Length 15'6" (aprx 4710mm)
Width 5'2.5" (aprx 1560mm)
Height 4'11.5" (aprx 1480mm)
Turning Circle 36'
Tyres
Weight 28cwt
Fuel Tank

PRICE